Buying SSl Certificate:
You can buy Comodo Positive SSL certificaate from hostgator itself for $40/ yr  or $95.98 /3 yrs . You can also buy 3rd party ssl certificate and get the SSL certificate installed by Hostgator for $10.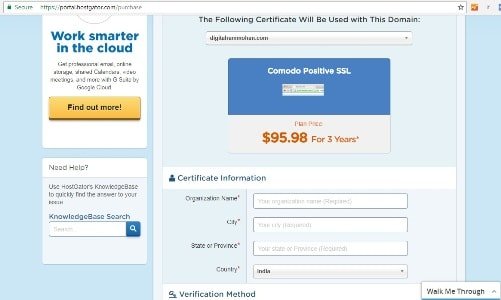 The below process is for 3rd party SSL certificate installation.
I have bought Comodo PostiveSSL certificate from www.Gogetssl.com ( https://www.gogetssl.com/comodo-ssl/comodo-positivessl/) for $13.85 /3 yrs.
For buying SSl certificate you first need CSR key (Certificate Signing Request) generated from web host i.e hostgator.
Generate your CSR key (Certificate Signing Request) here (https://www.hostgator.com/generatecsr)
Please note that the address and organization information needs to match your WHOIS information for the domain for which you would like the SSL installed on.
Save CSR and RSA Keys as text files in your computer, as you will need them both.
While buying certificate you have verify that domain belongs to you or you are authorised to do so using DNS Cname / HTTP / Email option.
Once you buy the certificate, you will get email of 2 files
Positive SSL Certificate / Security Certificate (.crt) . You will also get this in text format
CA-BUNDLE File (.ca-bundle) which consists of 2 intermediate CA certificates
Now upload RSA key in the home directory of your domain
Check if SSL certificate and RSA key matches here (https://www.sslshopper.com/certificate-key-matcher.html)
Install SSL Certificate :
If your hosting plan is Baby plan or higher you are good to go on multi SSL's. That means you can install multiple SSLs for your domains . No need for buying dedicated IP for each SSL
This is possible because of SNI ( Server Name Indication) . SNI allows to run multiple SSL/TLS certificates on the same IP address.
Request Hostgator for SSL installation here ( https://www.hostgator.com/installssl).
Fill the Install SSL form with  your cpanel id and password , SSL certificate(as text ) and CA bundle file ( both the intermediate CA certificates as text). You can select "Already have dedicated IP " option in the form.
Submitting form will create a ticket  in your hostgator billing portal. Pay hostgator $10 for SSL installation using credit card.
Check SSl Certificate:
After SSl certificate is installed , we have to check SSL, if it's installed properly without errors.
We can check SSl at
https://www.sslshopper.com/ssl-checker.html
https://www.ssllabs.com/ssltest/analyze.html
If everything is right, you should get an A+ grade in the SSL Lab test as shown below
Once SSL test is passed, you can start  the process of redirecting HTTP to HTTPS, which I will write in my next blog post.
About The Author
Hi, This is Ram Mohan, Digital Marketing Consultant from Bangalore. I am also a Trainer and Blogger on Digital Marketing. Know more about me here
Subscribe to my blog posts and get updates of all my new posts directly to your email id. Subscribe to DigitalRammohan.com by Email